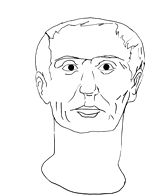 JULIUS CÆSAR
3311 W. Carroll Ave
Chicago, IL
The Mind's I

Anne Harris

November 9, 2012- December 9, 2012
Closing reception: Sunday, December 9, 2012, 2pm-4pm
Artist talk: Sunday, December 9, 2012, 2pm-4pm

Hours: Julius Caesar will be closed to public viewing (unless by appointment) for the month of November while the artists draw. The gallery will reopen to the public (while artists continue to draw) on December 1st and 2nd (10am-4pm), and December 4th through December 8th (10am-4pm).

A collaborative drawing project designed to generate questions and conversation about looking with our eyes, hands, bodies. The gallery will serve as a drawing studio, while Harris and over 30 invited artists draw self-portraits, generating an expanding grid of drawings that will cover the gallery's walls.

Participating artists: Candida Alvarez, Joanne Aono, Claire Ashley, Karen Azarnia, April Behnke, Jerry Bleem, Deborah Boardman, Steven Carrelli, Edmund Chia, Paul D'Amato, Dana DeGiulio, Katherine Desjardins, Josh Dihle, Susanne Doremus, Judith Geichman, Michelle Grabner, Carrie Gundersdorf, Lindsey Hook, Jason Lazarus, Eric Lebofsky, Louise LeBourgeois, Jin Lee, Riva Lehrer, Jim Lutes, Betsy Odom, Sabina Ott, Kim Piotrowski, Tyson Reeder, Mario Romano, Chris Toepfer, Viki Siliunas, Maria Vergara, Kevin Wolff, Jay Wolke, Caleb Yono, Molly Zuckerman-Hartung and more.