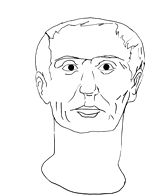 JULIUS CÆSAR
3311 W. Carroll Ave
Chicago, IL
Gil Rocha

Contemplations

July 4-25, 2010
Opening reception: Sunday, July 4, 2010, 4-7PM

Hours: Every following Saturday & Sunday, 1-4PM, and by appointment

















&

Gil Rocha

Contemplations

July 28, 2010
Opening reception & hours: Sunday, July 28, 2010, 5-7PM


A one-night-only extension of Gil Rocha's Contemplations, with work not exhibited in the original exhibition, held at SAIC's Sullivan Galleries courtesy of Art World Chicago July 2010.




*****

Art World Chicago, July 2010 presents:

This is a unique assemblage of July's choicest Chicago contemporary art venues in one place for two hours only. We're offered an opportunity to look at and participate in a condensed version of the social and geographic structure of an art scene. You will experience original art by over a dozen artists in an environment conducive to the discussion of our braided expectations of venue, reputation, biography, and community among other things.

"Milwaukee artist John Riepenhoff spent the last two weeks investigating Chicago's diverse art gallery scene and is pleased to share an edit of his research in the form of a meta Chicago Art World. For this project Riepenhoff visited numerous galleries in the Chicago area he hadn't before been to. From the wide rang of approaches toward framing he witnessed Riepenhoff invited seven gallery spaces to exhibit art in a labyrinth of exhibition booths installed at the Sullivan Galleries. The final experience physically and socially represents the artist's travels into the depths of a city's artscape and documents a moment in Chicago's art scene."