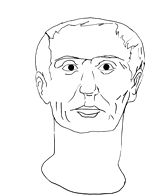 JULIUS CÆSAR
3311 W. Carroll Ave
Chicago, IL
Fest Fest

Saturday, September 26, 2009

• Matt McAuliffe | 1:30PM
¬ Jesus Gonzalez Flores & Xavier Jimenez | 2:30PM
¬ Erik Wenzel | 3:30PM
¬ Maura Smyth | 4:30PM
≈ Diego Leclery's Volpi: 5s | 5:00PM
• Jacob Goudreault & Billy Kang | 6:00PM
◊ Ryan B. Richey | 6:30PM
• Kevin Gallagher | 7:00PM
• Charles Mahaffee | 7:30PM
‡ Hannis Pannis | 8:00PM
‡ Lordosis | 9:00PM

Sunday, September 27, 2009

• Hans Peter Sundquist | 2:00PM
¬ George Liebert | 2:30PM
¬ Michelle Grabner | 3:00PM
¬ Molly Zuckerman-Hartung | 3:30PM
• Dana DeGiulio | 3:50 PM
Silent Auction | 4:00PM
≈ Diego Leclery's Volpi: 5s | 7:00PM
‡ Avagami | 8:00PM
‡ MARTHA | 9:00PM

¬ lecture, ‡ music, • performance, ◊ reading, ≈ theater

Right-click here to download detailed schedule of events

A complete video recording of the events is available below.





Fest Fest Silent Auction
September 27, 2009, 4-7PM

Works by:
Jerome Acks, Candida Alvarez, Karen Azarnia, Brooke Barnett, Justin Berry, Deborah Boardman, Rob Bongdren, You Ni Chae, Edmund Chia, Nicholas Cueva, Dana DeGiulio, Susanne Doremus, Andrew Falkowski, Servando Garcia, Judith Geichman, Jacob Goudreault & Billy Kang, Michelle Grabner, Carrie Gundersdorf, Corinne Halbert, Anne Harris, Lindsey Hook, Chinatsu Ikeda, Michiko Itatani, James Kao, Chelsea Knight, Eric Lebofsky, Diego Leclery, George Liebert, Elizabeth Lopez, Caleb Lyons, Michael Milano, Aliza Nisenbaum, Michael Nudelman, Deirdre O'Dwyer, Leah Patgorski, Frank Piatek, Michael Pollard, Alison Rhoades, Ryan B. Richey, Noah Rorem, Kay Rosen, Nancy Lu Rosenheim, E.W. Ross, Colby Shaft, Ezara Spangl, Rainer Spangl, Scott Stack, Hans Peter Sundquist, Sebastian Vallejo, Theresa Walloga, Kaylee Rae Wyant, Caleb Yono, Molly Zuckerman-Hartung, and more.

Works are on view at the Julius Cæsar Gallery September 13-27, on Sundays, 1-4PM and online. There is a reception Sunday, September 27, 4-7PM for final bidding.
Bid on works at the gallery on the 27th or via email at bid@juliuscaesarchicago.com.
Online bidding is available until September 25.